AUSTIN – In a statement released Thursday, Texas Republican Governor Greg Abbott announced that he was calling the state legislature back into a second special session commencing at noon on Saturday—twelve hours after the first special session ends.
The first special session ends at 11:59 p.m. on Friday and was effectively stalled in taking legislative action after the majority of the Democratic Texas House Caucus boarded flights to Washington D.C. on July 12 and have remained out of state denying Republicans from a quorum.
Abbott released a 17-item agenda expanding his priorities like the election bill that caused the House Democrats to flee the state at the start of the first special session, which ends Friday. But it also features six additions, including the spending of federal COVID-19 relief funds and potentially changing the legislative rules regarding quorums, the Texas Tribune reported.
There is also a new item on public education during the pandemic including masks which is an increasingly volatile issue as parents prepare to send their kids back to school with the virus on the rise statewide.
Among the Governor's legislative priorities is once again focused on denying Transgender youth in the Lone Star state the ability to participate in athletics on teams or intermural sports in their chosen gender.
"Legislation identical to Senate Bill 29 as passed by the Texas Senate in the
87th Legislature, Regular Session, disallowing a student from competing in
University Interscholastic League athletic competitions designated for the sex
opposite to the student's sex at birth."

From the Proclamation by texas governor greg abbott published thursday, august 5, 2021
Trans teen activist Landon Richie told the Blade Thursday that "Once again, Governor Abbott is wasting money, time, resources, and energy on attacking trans youth in sports – kids who just want to be a part of a team and spend time with their friends. What trans kids – and adults – are told by this announcement is that the state's leadership has no regard for our well-being, safety, or lives," he said.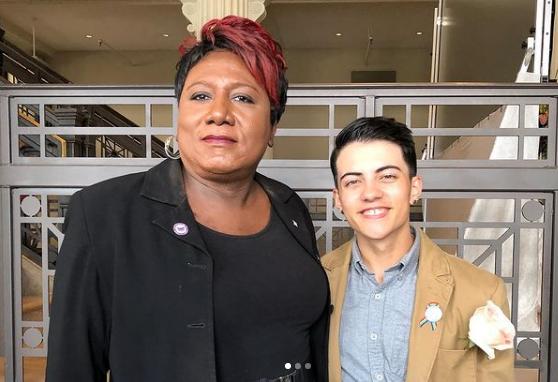 "What we need instead is to be treated not as second-class citizens, but as the valuable, beautiful, loved people that we are. The Governor would rather make it harder for trans kids to live, for people of color to vote, for students to learn about systemic racism, for immigrants to seek safety, and for people to access reproductive healthcare in our state than to protect us from COVID and extreme weather events; his actions will not be forgotten when it's time to vote him out in 2022," Richie added.
Photo: Late journalist and Trans activist Monica Roberts with Landon Richie
The Tribune also reported that with Thursday's announcement, Abbott is following through on a statement he made toward the start of the quorum break, saying he would make sure the second special began the day after the first one ends. For the second special session, lawmakers will have to start over on every item, including filing bills and holding committee hearings.
Democrats and Republicans remain at a stalemate over the elections bill, which would restrict local voting options and place new statewide rules on early voting and mail-in ballots. GOP leaders have suggested they are not in the mood to further tweak the bill, while House Democrats have abandoned hope for meaningful negotiations while using their time in the nation's capital to advocate for federal voting rights legislation.
Abbott and the legislative Republican leadership have been thwarted from passage of their agenda as the Texas Democratic lawmakers have blocked every effort by the GOP in advancing bills through to the governor. f
First in the end of the regular legislative session in May, they walked off the state House floor, leaving Republicans without the quorum they needed to approve the voting legislation in the final hours before a midnight deadline. Then in July by leaving the state altogether.
The push to pass the elections reform legislation comes as Republicans in Texas have sought to join Florida, Georgia and other GOP-controlled states that have seized on former President Donald Trump's lies about the 2020 election and adopted new restrictions that will make it harder for some of their residents to vote CNN reported.
Texas House Democrats say that they remain steadfast in their opposition to Abbott's agenda and will likely stay in Washington where they have held a number of meetings with other Democrats including Vice President Kamala Harris, Senate Majority Leader Chuck Schumer. This past week CNN reported that the Texas Democratic lawmakers were joined by more than 100 state legislators from across the country as part of a planned "week of action" on voting rights.
"A vast majority, enough to break quorum, have committed to each other to not be in the Capitol when the second called session happens," said state Representative Eddie Rodriguez, (D-51) who serves on the House Committees on Calendars, State Affairs and Ways & Means.
Other lawmakers indicated that while they eventually plan return to Texas have told multiple media outlets that they will not return to the Texas Capitol to attend any future special sessions called by Abbott.
Gov. Greg Abbott announces plans for a second special session, 17 agenda items
The post Texas governor calls for 2nd special session, anti-trans bill on agenda appeared first on Washington Blade: LGBTQ News, Politics, LGBTQ Rights, Gay News.