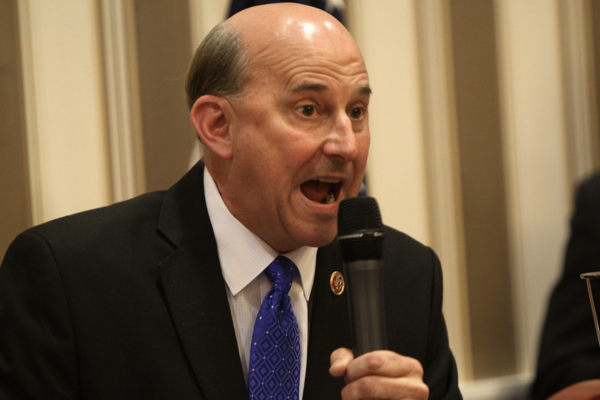 Rep. Louie Gohmert (R-Texas) had dire predictions Saturday about the fate of the republic if the Supreme Court delivers a victory for transgender people in the pending Title VII cases.
Gohmert, a notorious and longtime opponent of LGBT rights, said the decision would lead to "such obscurity for right and wrong that it will chaos," and transgender advocates seeking the ruling "think of out of chaos will come these great dictators."
"Employers, the government…argue that the plaintiff's reading of Title VII would so expand the concept of sex that employers would not know to comply and courts would not know how to enforce it," Gohmert said.
Gohmert made the comments during a speech at the Values Voter Summit, an annual social conservative confab in D.C. hosted by the anti-LGBT Family Research Council. His wide-ranging remarks emphasized religiosity, reminisced about the greatness of American figures like George Washington and praised the Ten Commandants.
The Texas lawmaker made a special point to talk about a case the Supreme Court heard this week, EEOC v. Harris Funeral Homes. The litigations seeks restitution for Aimee Stephens, a transgender woman who was fired from her job at Harris Funeral Homes after she announced she'd transition.
The litigation, along with Zarda v. Altitude Express and Bostock v. Clayton County, will determine whether anti-LGBT discrimination is a form of sex discrimination, therefore prohibited under Title VII of the Civil Rights Act of 1964.
But the way Gohmert tells it, Stephens "ends up being let go" at Harris Funeral Homes "because he was violating their policies, and this is before the Supreme Court." (Notably, Gohmert refused to refer to Stephens by the pronouns with which she identifies.)
Gohmert also praised U.S. Associate Justice Neil Gorsuch, noting the justice during arguments brought up a question on whether a ruling for transgender people will lead to "massive social upheaval."
"Judge Gorsuch understood," Gohmert said. "Judge Gorsuch said – asked this question: He says, 'At the end of the day should he or she take into consideration the massive social upheaval that would be entailed in such a decision, in forcing people to recognizen someone for being them sex that they say they are at that moment?' Anyway, he says, that is, in fact, more appropriate for a legislative than judicial function."
While it's true Gorsuch asked a question on potential "massive social upheaval," the justice also suggested the pro-transgender side had the better statutory argument in the case. Several times, Gorsuch asked whether the concept of sex is in play in cases of anti-LGBT discrimination. That line of questioning lead to speculation he may rule for LGBT workers.
But Gohmert wasn't done fear-mongering about a transgender win at the Supreme Court. If transgender workers are assured non-discrimination protections in the workplace, Gohmert said "that first part of the First Amendment will be gone."
"You will not have the freedom to believe what Moses and Jesus said about sexuality," Gohmert said. "That will be gone. You will be deemed a hater. You will be deemed to be mean-spirited when you have nothing but love for your fellow man but you know right and wrong, you've learned that."
Further, Gohmert criticized the Matthew Shepard & James Byrd Jr. Hate Crimes Prevention Act, a law enacted in 2009 (which the lawmaker vigorously opposed at the time) to institute federal penalties for hate crimes against LGBT people.
Gohmert predicted if the law "is not changed — I said it back when it wasbeing brought up, if this passes — someday it'll be used to prosecute Christian ministers for reading from the Bible."
"And they thought I was talking about homosexuality," Gohmert said. "I didn't want to give them any ideas, but what I had in my mind back then was someday they're going to come after Christians for saying Jesus said I'm the way the truth and the life. No one goes to the Father but by me. That's hateful, that's mean-spirited!"
Gohmert's comments ignore the protections for religion and speech under the First Amendment, which were emphasized in an amendment included as part of the hate crimes legislation. At the time, advocates for the law said ministers won't be punished for speech under the law unless they're committing a violent act against an LGBT person as they speak.
Gillian Branstetter, a spokesperson for the National Center for Transgender Equality, said Gohmert's concerns about "great dictators" are better focused on President Trump than transgender people.
"The rights of transgender people under Title VII are the result of two decades of federal court rulings, and 21 states have laws banning gender identity bias explicitly," Branstetter said. "A decision in favor of trans workers in this case would do nothing more than affirm the same rights and opportunities to transgender people nationwide. Unless the Congressman knows something I don't about our nation's 2 million transgender people, the closest thing we have to a 'great dictator' in this country is our lawless president."
The post Gohmert: Supreme Court ruling for trans people will create 'great dictators' appeared first on Washington Blade: Gay News, Politics, LGBT Rights.