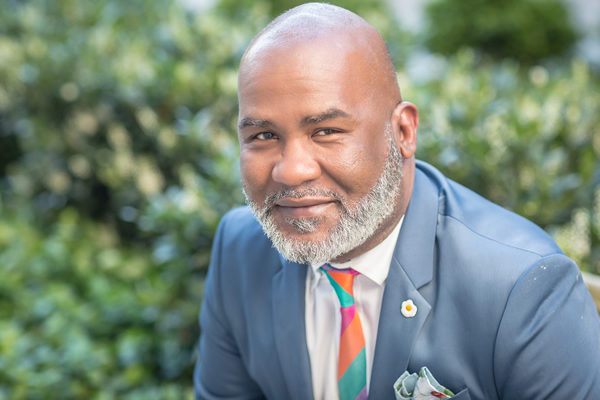 Tony Nelson has a different philosophy of drag than most.
"My motto is, 'A drag queen is a man in the illusion of a woman; I'm a man in the illusion of a drag queen,'" he says.
Nelson got arm-twisted into emceeing. Friends — one of whom was Shi-Queeta-Lee (the prominent D.C. drag queen) — convinced him to do it. He liked it and wanted to do more hosting gigs but in male attire but says nobody would book him. So he and a group of friends came up with what he calls "bearded glamour drag illusion." He ended hosting weekly gigs at Bachelor's Mill for nearly 20 years.
Capital Pride organizers say Nelson is "one of D.C.'s leading and most respected emcees and comedians."
"Tony's style is unique," his Pride bio says. "He's not the typical drag performer. He often jokes he isn't a drag queen, just "a man in a dress." Donning a full beard, jewels, and elaborate wigs, he is in a league of his own. He started the bearded-drag gig in the DMV, and was featured in 'Drag Dolls, Dames and Divas,' the book by acclaimed photographer James Hicks."
Nelson is one of this year's Capital Pride Honorees (formerly dubbed Pride Heroes).
"I was moved to tears," he says about the award. "It is a huge and unexpected honor. When I received the call, I thought someone was playing a joke on me. I am very grateful."
Nelson hosts Stronjai's Lipstick Review at Mr. Henry's every fourth Sunday of the month, Daryl Wilson events the first and third Fridays of each month at Ziegfeld's and the SWERVE show on WLVS Listen Vision every Wednesday night at 10 p.m. He posts his gigs on his Facebook page for anyone interested.
Nelson, a 54-year-old native Washingtonian, works by day as an executive assistant at D.C. Water. He's "mentored, housed, fed and parented" 21 young people who consider him a parent. He lives in Deanwood and enjoys prayer, baking and meditation in his free time.
How long have you been out and who was the hardest person to tell?
I have been out my entire life. I never felt the need to "tell" anyone. My dad told me that I was good no matter what. After that I figured, if you know me then you KNOW me.
Who's your LGBTQ hero?
James Baldwin
What LGBTQ stereotype most annoys you?
That whole femme/butch thing.
What's your proudest professional achievement?
I have two: hosting Savanna Wanzer's first Trans Pride event and after 20 years finally being booked to host/work at Ziegfeld's. (Daryl Wilson's first and third Fridays).
What terrifies you?
Walking on stage (oh, and mice LOL)
What's something trashy or vapid you love?
The Real Housewives (all of them!)
What's your greatest domestic skill?
I am a really good cook.
What's your favorite LGBTQ movie or show?
"To Wong Foo." "Female Trouble" is a close second.
What's your social media pet peeve?
Social media beefs
What would the end of the LGBTQ movement look like to you?
People would be free from harm and able to live as they choose. HIV-AIDS would be eradicated.
What's the most overrated social custom?
Asking someone you just met: What do you do?
What was your religion, if any, as a child and what is it today?
Southern Baptist. Same.
What's D.C.'s best hidden gem?
The natives (cool native Washingtonians).
What's been the most memorable pop culture moment of your lifetime?
Seeing Sylvester walking around King's Dominion then later watching him join Patti LaBelle onstage.
What celebrity death hit you hardest?
Whitney Houston. I gagged.
If you could redo one moment from your past, what would it be?
None. I have no regrets.
What are your obsessions?
Time. I am obsessed with timeliness.
Finish this sentence — It's about damn time we …
… have a gay president. Go Pete!
What do you wish you'd known at 18?
Gratitude
Why Washington?
It's my home.
The post QUEERY: Tony Nelson appeared first on Washington Blade: Gay News, Politics, LGBT Rights.