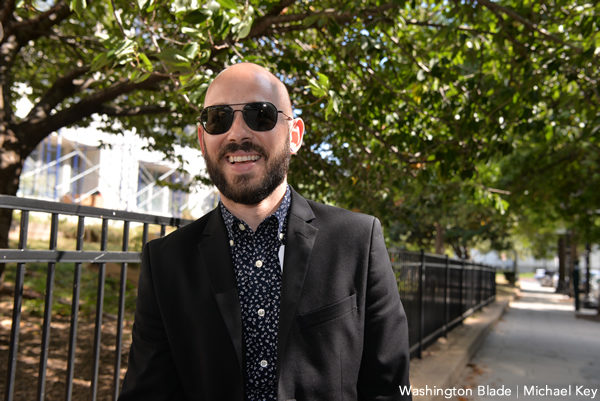 James "Jimmy" Taglauer says co-directing the Bethesda Row Arts Festival unites the two things he and Jon Gann (the other co-director) do best: showcasing great works of art while putting their logistical mindsets to work.
Despite both being D.C.-area residents, they met 13 years ago at Camp Camp, a Maine event for LGBT adults. In 2011, they worked together on the D.C. Shorts Film Festival and their collaboration spun out from there.
"This show is all about the art and the artists," he says of Bethesda Row. "We're committed to making it as accessible as possible, both in person and online. … The picturesque setting provides a perfect backdrop for a fabulous fall festival."
The festival runs Oct. 12-13 as a large outdoor art gallery featuring ceramics, drawing, fiber, glass, printmaking, jewelry, metalwork, painting, photography, sculpture and other disciplines from about 200 jury-selected artists around the country. It's free and open to the public. Details at bethesdarowarts.org.
Taglauer, a 38-year-old Bay City, Mich., native has worked in event management for 15 years in various capacities from weeklong experiential learning conferences to corporate and non-profit events. Bethesda Row gobbles up most of their time at parts of the year, but also leaves he and Gann time to do other stuff as well.
Taglauer came to Washington in 2004 and has been here ever since except for the summer of 2005, when he sold diamonds at a cruise ship port in Alaska.
"I came here originally for a job and now I can't imagine living anywhere else," he says.
He's engaged to Carlos "Charly" Guardia, his partner of three years. They live together in Bethesda, Md., with their cat, Linda. Taglauer enjoys pinball, show tunes, documentaries and cooking in his free time.
How long have you been out and who was the hardest person to tell?
Mostly since college, some people knew earlier than others. My conservative father was the hardest to tell. I told him I was gay on the day I got fired from my first "real job" after college, a year after graduation.
Who's your LGBTQ hero?
At camp, we sleep in cabins named for LGBTQ heroes and I'm proud to have always been in cabin RuPaul. Ru has made his career in being himself and now famously helping others find their voice through drag. I think Ru's a success because he knows what he does better than anyone else, and that's being himself. I love authentic people who don't make apologies or excuses for who they are.
What LGBTQ stereotype most annoys you?
That only lesbians can own Subarus. My partner Charly wants one!
What's your proudest professional achievement?
In 2017, I returned to my former company to lead my second delegation of college students across three cities in Australia. It was one of the most seamless and highly reviewed trips I've ever had. Having been away from the company for some time, it felt great to go back and cap off my time there with such a positive experience for both the students and the organization.
What terrifies you?
Spiders
What's something trashy or vapid you love?
I love Taco Bell and I don't care who knows.
What's your greatest domestic skill?
I can iron a shirt better than anyone you've ever met. I'm also really good at taking out the trash.
What's your favorite LGBTQ movie or show?
"Serial Mom" and "Evita."
What's your social media pet peeve?
Ugh. I'm just about over all social media. But I think the change to "thread" on Twitter made people even dumber.
What would the end of the LGBTQ movement look like to you?
Wow, I don't know. When marriage equality became law in the U.S., I never pictured myself getting married, but I also knew that it wasn't the end of the movement. Being able to marry the person you love was more of a recognition that we are all equal under the law. Though all too often, the most marginalized of our community are still the most impacted. The end of the movement occurs when we're all treated equally, under the law and in society.
What's the most overrated social custom?
Having children.
What was your religion, if any, as a child and what is it today?
Grew up Lutheran, still a Christian.
What's D.C.'s best hidden gem?
The Volta pool in Georgetown.
What's been the most memorable pop culture moment of your lifetime?
In 2004 I met Kelly Clarkson backstage at "Jimmy Kimmel Live." We hung out and chatted for a while, and it ended with her recording my outgoing voicemail message. I had it forever but I lost it when I went to an iPhone years ago. It was awesome and so is Kelly!
What celebrity death hit you hardest?
I was running an event a block away from the UCLA Medical Center the day Micheal Jackson died. It was super sad, but it also turned the neighborhood into a media and traffic nightmare!
If you could redo one moment from your past, what would it be?
Never start smoking cigarettes! Although I loved smoking pfunks for a long time and have been a non-smoker for years, I wish I would have never started.
What are your obsessions?
Charly and Linda.
Finish this sentence — It's about damn time:
that we all had universal health care!
What do you wish you'd known at 18?
That I'd make it to 38 — and how lucky I would be.
Why Washington?
Why not?
The post QUEERY: James Taglauer appeared first on Washington Blade: Gay News, Politics, LGBT Rights.