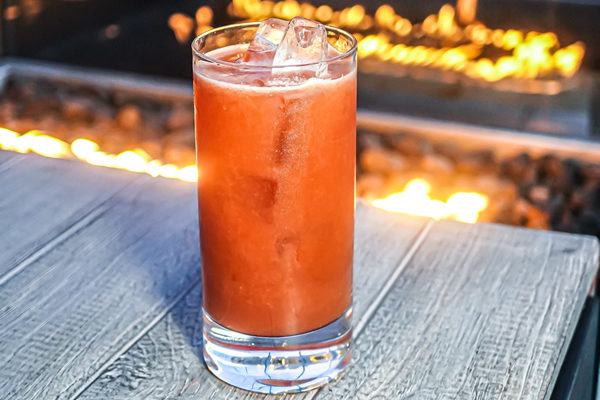 What's the difference between the 12 days of Christmas and eight days of Hanukkah? Four of Washington's most entertaining holiday pop-up bars. Far from the White House Christmas Tree are these bars filled with frivolity, creativity and wonky winks and nods to the city's culture.
Highbrow — Conrad Hotel
The Conrad Washington (950 New York Ave., N.W.), in its debut holiday season in the city, reaches across the pond to bring Alps inspo to its third-floor lookout for its Apres Ski Experience. The Conrad's elegant terrace has transformed into a cozy mountain lodge, offering Euro-chic cocktails and dishes. Heated outdoor fire pits, necessary to combat the chill, are complete with blankets and thermoses filled with hot buttered rum and 'haute' toddy cocktails. Alsatian cheese and charcuterie boards get an additional lift from fireside s'mores kissed by chocolate ganache. CityCenter clothing retailer Moncler is setting up its chic outerware goods in a gondola for a feel of the Alps on your shoulders. Open Tuesday to Thursday 5-10 p.m., and Friday and Saturday 4-11 p.m., through February.
Lowbrow — Ivy and Coney
For its third crazy year, Ivy and Coney (1537 7th St., N.W.) will get your candle hot in its Hanukkah pop-up, "Bar Mitzvah." The laid-back, sports-focused space has become a place where "the Manischewitz shall flow, the dreidels shall spin and fun will be had by all," according to the owners. Front and center are latkes, hot and fried, as well as "sufgani" shots (jelly donut, but make it a shot), and "eight-night fiery cider" that's known in some circles as Fireball. Out on the patio, the "shotnorah" shines brightest, at which eight friends can take a shot of liquor concurrently. The bartender acts as shamash, or the middle lead candle. Emphasizing the mitzvah portion of "Bar Mitzvah," the Ivy and Coney is donating a portion of proceeds to HIAS and Bread for the City. There will be candlelighting each night at 7:30 p.m. Dec. 22-29 during the actual holiday. Getting lit is an almost certainty. The pop-up runs "from December 2nd through New Years' Eve of the year 5780."
Classic — Miracle on 7th Street
The mother of all pop-up bars (or PUBs) in D.C., Drink Company's Miracle on 7th (1843 7th St., N.W.) is back for another year of outrageously fun décor, complex cocktails and lines stretching around the corner in subfreezing weather. Its tri-fold, choose-your-own adventure style is back in full force. One room is again dedicated to Hanukkah, housing a "Chinese and a movie" concept, as well as whirling dreidels and a menorah of Maccabean size that would last for many more than eight nights.
Another room is decked out in adorable teddy bears, in support of the Washington Children's Hospital. The last room is pure home run: it's a celebration of the 2019 World Series Champions, the Washington Nationals. Yes, Baby Shark will show up. As far as the drinks, cocktail manager Paul Taylor wrote that "all the drinks convey the season, festivity and personalities of the bars." He'll pour options like Gretchen, Stop Trying to Make Fetch Happen (cream sherry, dry curacao, and sparkling wine), as well as one for our recently departed Panda Bei Bei (tequila, vanilla, lime and soda). The pop-up is open Nov. 22-Dec. 31; on Dec. 23 the bar will host an event that benefits the Washington Nationals Dream Foundation.
Beery — Wundergarten
NoMa's Wundergarten (1101 First St., N.E.)is hosting its own third anniversary with this year's Winterfest. The beer garden transforms into festive "hoppy" holiday dreamscape across all of its 13,000 feet of indoor/outdoor wonderland. Spiked cider, hot chocolate and seasonal beers are on tap. Stroll beyond the immersive "Polar Tunnel" art installation is The Chalet, a Swiss-inspired dining concept under twinkling holiday lights. When the chill's a bit too strong, the heated igloo and fire pit help heat things up. There's also a responsibly sourced Christmas tree garden and weekends bring Santa photo ops, local artist's market and themed night like Ugly Sweater Party and Night of a 1000 Santas, The pop-up runs Dec. 6-22.
The post Holiday pop-up bars offer festive, sparkly cocktail fun appeared first on Washington Blade: Gay News, Politics, LGBT Rights.