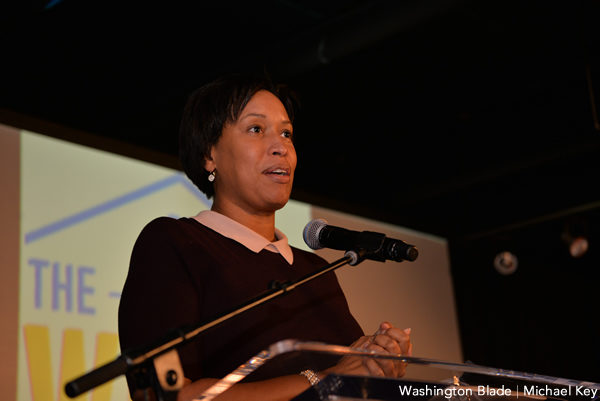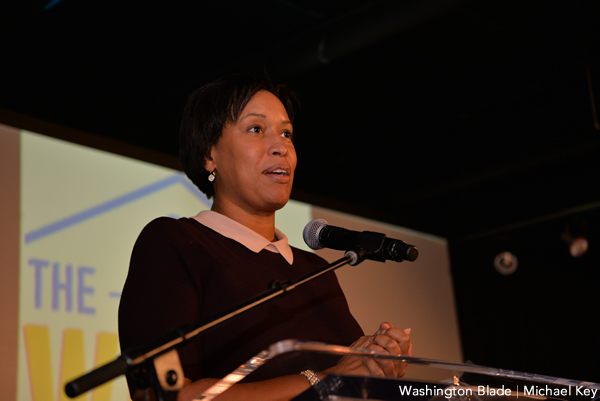 Ashly Taylor, 27, an out lesbian, told D.C. police that on Feb. 2, 2018, a newly hired male co-worker at a construction company job site where they were working that day on Minnesota Avenue, S.E. began to harass her for being a lesbian.
According to her account to police and later to the Washington Post, the co-worker said he wanted to have sex with her and ordered her out of the back of a pickup truck where she had been sitting.
When she got out of the truck the two began to argue, a police report says, before the coworker, later identified as Enjoli Gaffney, pulled out a small pistol from his waistband, pointed it at her and fired one shot, which struck her in the chest.
"When she was shot, she fell backward against the pickup truck's trailer," the Post reported her as saying. "As blood began to soak through her sports bra, Taylor said, she wondered whether she was going to die," the Post said in an article on Sunday.
The police report and court records of the incident obtained by the Washington Blade this week show that Taylor somehow drove herself to Prince George's County Hospital, where she was treated and later released for a "graze" bullet wound. D.C. police, meanwhile, arrested Gaffney on a charge of assault with a dangerous weapon with an anti-LGBT hate crime designation.
As if all of that were not enough, Taylor told the Post she was further traumatized when she learned that the U.S. Attorney's Office, which prosecutes serious crimes in D.C., offered Gaffney a plea bargain deal which he accepted that included dropping the hate crime designation. The deal also allowed him to plead guilty to a single charge of assault with a dangerous weapon, rather than attempted murder that Taylor believed he should have been charged with, and recommending to the court that he serve just three years in jail.
Court records show that a judge reluctantly agreed to the three-year sentence, even though he said he thought a longer sentence was warranted.
Meanwhile, to the amazement and dismay of some local LGBT activists, none of this became known to them – or to the Washington Blade – until the Washington Post first reported details of the shooting of Taylor and details of more than a dozen other anti-LGBT hate crimes that took place in 2018.
The Post reported all of this in an in-depth, two-part story analyzing all 204 incidents designated by D.C. police as hate crimes in 2018 on Aug. 25 and Aug. 26.
Stephania Mahdi, an official with the D.C. Anti-Violence Project, which is part of the D.C. Center for the LGBT Community, said she was among those who had not heard about the shooting of Ashly Taylor until she read about it in the Post story this week.
Mahdi said the Anti-Violence project is part of a committee created under D.C. Mayor Muriel Bowser's Office of LGBTQ Affairs called the Violence Prevention and Response Team, or VPART, which includes representatives of local LGBT organizations. Among other things, VPART receives briefings from D.C. police on anti-LGBT hate crimes and other crimes targeting LGBT people.
Mahdi said news of the Taylor shooting was not disclosed at the VPART meetings she has attended, although she said she has not attended all VPART meetings during the past year. But even if it had been disclosed at a meeting she attended, under VPART rules, she would not have been allowed to publicly disclose the information.
Some LGBT activists have objected to these rules established by police and Sheila Alexander-Reid, director of the Mayor's LGBTQ Affairs Office, who also serves as coordinator of the VPART group, that prohibit VPART members from publicly disclosing information they receive about specific incidents of anti-LGBT crimes, including hate crimes.
Alexander-Reid has said in the past that VPART restrictions on disclosing specific details of cases were needed to protect the privacy of crime victims.
"VPART receives information from MPD about potential bias incidents and crimes that occur, and some of that information identifies whether a victim was a member of the LGBT community," she told the Blade in a statement on Wednesday.
"While VPART members can ask MPD staff questions about specific cases at meetings and relay best practices for safety to the communities they represent, VPART members can't disclose a victim's sexuality to their community or any personally identifying information," she said.
D.C. Police spokesperson Karimah Bilal told the Blade that police disclosed information about the Taylor shooting to VPART.
"LGBTQ+ community advocates who are part of the Violence Prevention and Response Team were notified of the crime," she said of the Taylor shooting.
In response to a question by the Blade about why a D.C. police press release issued at the time of the Taylor shooting made a vague reference that it was being investigated as a possible hate crime but did not disclose that the victim was a lesbian who was subjected to anti-gay slurs, Bilal gave an explanation that police have given many times before.
"As always, MPD does not disclose the sexual orientation or gender identity of any individual involved in a case unless we determine that information may impact the greater community's safety," she said in a statement.
Mahdi of the Anti-Violence Project said she disagrees with what appears to be a blanket policy of not disclosing the sexual orientation or gender identity of crime victims, even without disclosing their names.
"Victims have the right to privacy and we fully support that," she told the Blade. "However, we also feel that the community should have been aware that an attempted murder happened in broad daylight against a lesbian woman at her work place because of her sexual orientation," she said.
"Even if the perpetrator was quickly apprehended, the community should be aware of crimes happening in their communities and the final disposition of those crimes," she said.
In addition to its reporting of the Taylor shooting, the Post's two-part story this week disclosed these additional anti-LGBT hate crimes from 2018 that had not been publicly disclosed at the time they happened:
• On Feb. 3, 2018, one day after the Taylor shooting, Randolph Williams, an openly gay man, was struck in the head with a Champagne bottle by an unidentified man on the dance floor at a D.C. nightclub after the attacker called him anti-gay names. According to a police report obtained by the Blade, the incident took place at the Aqua Nightclub at 1818 New York Ave, N.E. No arrest has been made in the case.
• A gay man was threatened in the locker room at his gym.
• A woman came home to find her rainbow flag was smeared with feces.
• A lesbian was called a 'dyke' and body slammed by her own brother who said if she wanted to act like a man he would treat her like a man.
• Kristen Laird, a transgender woman, said a homeless man threatened to rape her in Dupont Circle after he asked her if she was a man or a woman and she said she was transsexual. The man was arrested and pleaded guilty but was not charged with a hate crime.
• A transgender woman at a homeless shelter in downtown D.C. found a note in her locker that said, BITCH THIS [IS A] WOMEN'S SHELTER—LEAVE BEFORE WE KILL YOU, FAGGOT."
• In December 2018, the National Center for Transgender Equality, located in a downtown D.C. office building, received three threats in less than 24 hours, including one promising to "rid the earth of scum and garbage like you."
NCTE media relations manager Gillian Branstetter told the Blade this week that the group decided not to publicly disclose the incident. Branstetter said the group reported the incident to police and the Post found out about it by obtaining the police report.
"While I recognize the relative newsworthiness of threats against a national organization, we are far more concerned – and would urge reporters to be far more concerned – with the epidemic of violence impacting transgender people who do not have the privilege of a public profile and institutional capacity," Branstetter said.
In its examination of 2018 hate crimes cases in D.C., the Post found that out of 204 cases, D.C. police made arrests in 59 of those cases involving adults. But the Post found that the U.S. Attorney's Office only prosecuted three of them as hate crimes, choosing to drop the hate crime designation in all the other cases.
Taylor's case was among those whose designation as a hate crime was dropped by the U.S. Attorney's Office.
The Post investigation found that hate crime prosecutions in D.C. area at an all-time low compared to such cases being sent to the U.S. Attorney's Office by D.C. police over the past decade.
Jessie K. Liu, the current U.S. Attorney for D.C. who was appointed by President Donald Trump, has argued that hate crime cases are hard to prove before a jury in criminal trials. She said her office drops hate crime designations for cases only after experienced prosecutors determine there is insufficient evidence to prove a hate crime beyond a reasonable doubt, which is the criteria that judges instruct juries to use when deliberating over such cases.
The post Scores of previously unknown anti-LGBT crimes brought to light appeared first on Washington Blade: Gay News, Politics, LGBT Rights.