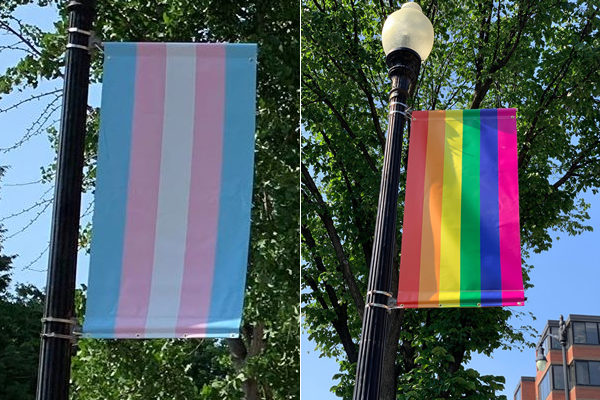 At the request of gay Dupont Circle Advisory Neighborhood Commissioner Randy Downs, city officials have approved the installation of 20 rainbow and transgender flag banners to be hung from light poles along 17th Street, N.W. near Dupont Circle.
Downs told the Blade that 16 of the banners will have a rainbow flag design and six will consist of trans flag banners, which will be hung along the commercial corridor of 17th Street between P Street and just past R Street. That section of 17th Street has been designated by the city as Frank Kameny Way after the late gay rights pioneer Frank Kameny.
Downs said the $4,000 cost for producing the banners was raised through a private online fundraising effort. He said the Historic Dupont Circle Main Streets organization has partnered in the effort to have the Pride banners installed, and the installation should be completed in time for the June 8 Capital Pride Parade, which travels along that 17th Street corridor.
"The purpose is to recognize and celebrate D.C.'s LGBTQ community, history, and fight for equality through a public display of pride and visibility," Downs said. "The project was made possible with the generous contributions from over 100 friends and supporters via an online fundraising campaign."
The post Permanent Pride banners to be displayed on 17th Street appeared first on Washington Blade: Gay News, Politics, LGBT Rights.