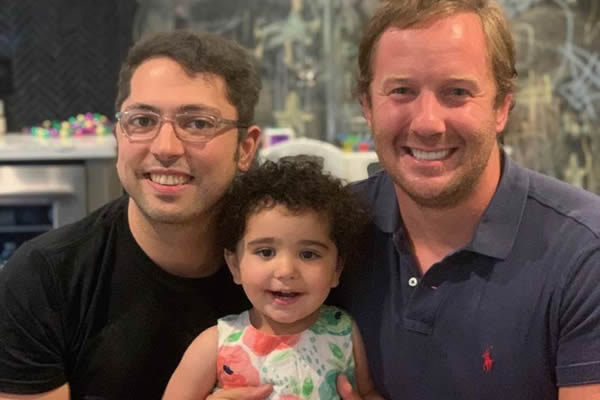 A federal judge in Georgia last week ruled the State Department must recognize the U.S. citizenship of the daughter of a gay couple who was born via surrogate.
U.S. District Judge Michael L. Brown — who President Trump nominated to the U.S. District Court for the Northern District of Georgia — on Aug. 27 ruled in favor Derek Mize and Jonathan Gregg.
The Atlanta couple's daughter, Simone Mize-Gregg, was born in England in 2018.
Brown's
decision notes her birth certificate lists Mize and Gregg as her parents.
The couple applied for a U.S. passport and "other proof of citizenship for
their daughter," but the State Department "denied" the
applications, "concluding she was not a U.S. citizenship at birth because
she shares a biological relationship with only one of her citizen parents
(Gregg) who had not been physically present in the United States for long
enough."
"In doing so, the State Department treated S.M.-G. as
if she had been born out of wedlock," wrote Brown, referring to the
couple's daughter.
Lambda Legal and Immigration Equality in 2019 filed a
lawsuit on behalf of the couple.
"We are so relieved that the court has recognized our daughter, Simone, as the U.S. citizen she has been since the day she was born," said Mize in a press release. "When we brought Simone into this world, as married, same-sex parents, we never anticipated our own government would disrespect our family and refuse to recognize our daughter as a U.S. citizen."
A State Department spokesperson in an email to
the Washington Blade acknowledged Brown's ruling.
"The department is aware of the court's ruling and is reviewing the decision with the Department of Justice," said the spokesperson. "We have no further comment at this time."
A federal judge in Maryland in June ruled the State Department must recognize the U.S. citizenship of the daughter of a gay couple who was born in Canada via surrogate in 2019. The State Department earlier this month appealed the decision to the 4th U.S. Circuit Court of Appeals in Virginia.
The post Federal judge: State Department must recognize U.S. citizenship of gay couple's daughter appeared first on Washington Blade: Gay News, Politics, LGBT Rights.